The 33rd committee F.O.R.T. 'Pie Debye'
Chairman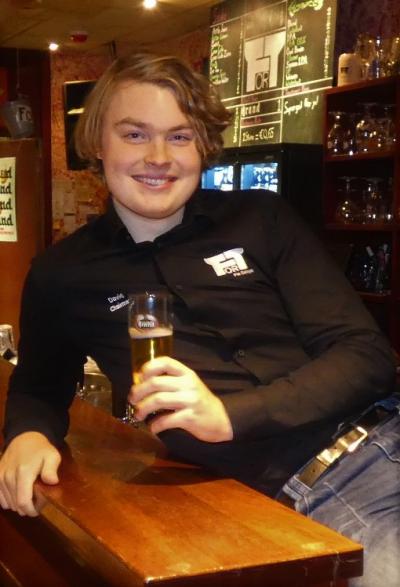 David Reus: "The bigger the better"
About 20 years ago he was born in the north of the Netherlands in a small village in West-Friesland (which is not actually in Friesland) called Venhuizen. There he had a simple time growing up on the farm with his 4 brother. But as the end of middle school neared, he felt the urge for more. He needed more in his life than just cauliflowers and clean air, so took al leap and travelled all the way to Eindhoven. This trip only took 2.5 hours, which is not convenient at all. For that reason, he decided to just move to Eindhoven immediately to be able to enjoy the student life. Then, when the introduction week finally arrived he got a first glimpse of the F.O.R.T., and he had a feeling it would become a place he would love. And when the time came for his first ever craft beer, he was sold. He would rarely miss out on a Thursday drink or F.O.R.T. activity to drink beers and have fun with his friends. And at the end of his second year he knew he wanted to keep this enormous joy flowing by becoming the chairman of the 33rd committee F.O.R.T. 'Pie Debye'. Together with 3 of his biggest friends (although not that large) he is ready for the adventure he started!
Treasurer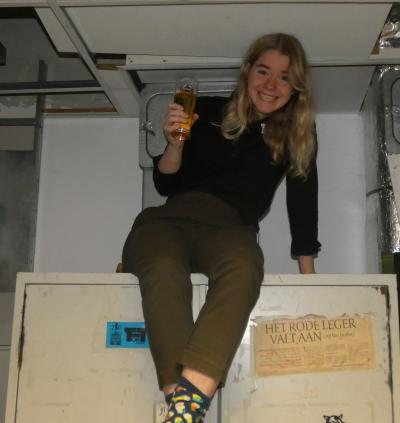 Amy van Bezouw: "Nothing better than a hug(e glass of beer)"
Roughly two decades ago, in the blooming heart of beautiful Brabant, she was born in the beginning of the summer. She grew up with her parents and worstenbroodjes, and loved being an only child. After spending her whole childhood in the beautiful shithole (with a train station) called Rijen, it was time for her to spread her wings and take the train to Eindhoven. Prank, trains are cancelled when she needs them the most. That is why she soon moved to Eindhoven to taste a bit of the student life. This includes beer, which she had never drank before this time. She immediately regretted the lost years of being responsible and wise, because these beers sure tasted amazing and sure as hell caused a lot of amazing memories. The studying was more emotionally demanding than expected, but luckily the F.O.R.T. was always there to support here through the rough times and to soothe them with a nice cold glass of golden goodness. She wanted to take on that role and provide support herself to all the thirsty students in need. She already got to touch a draft at a young age, but the two were parted for a long time after that. Luckily, the two of them got to reunite in the F.O.R.T.
Stock Manager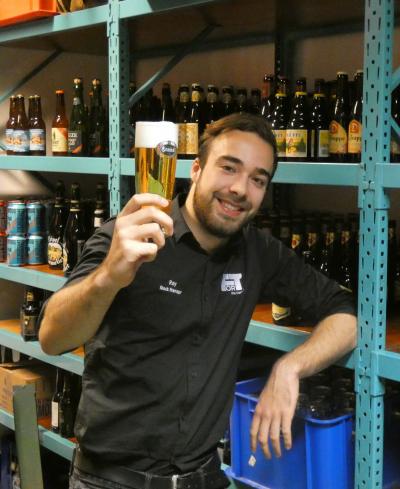 Roy de Haan : "Bottles must be opened! Glasses must be emptied!"
It was 20 years ago, on a sunny spring day, that he was brought into this world. Born only 10 kilometers away from Eindhoven in the village of Son en Breugel, he had already seen most of this cities secrets by the time he decided to come and study at the TU/e. However, there was one secret he had yet to discover: the bar of the faculty of Chemical Engineering, also known as the F.O.R.T. 'Pie Debye'. After only a few weeks into his first year, he could be found sitting at his favourite table in the F.O.R.T. with his friends every Thursday from 16:00 until 19:00, learning about and enjoying the many craft beers this bar had to offer. At the end of his first year, he had so many fond memories of this place that he wanted to do something back for the bar that had done so much for him, and he decided to become part of 33rd committee F.O.R.T. 'Pie Debye' in his third year. Taking on the role of Stock Manager for the year, this bearded Brabander is ready for an amazing adventure together with the friends he drank with during all those Thursday drinks.
Coordinator of Activities
Luke de Jong: "Believe when AC, I want it that way"
About 21 years ago a boy was born in Leiderdorp, he was raised in a small village called Hazerswoude-dorp. Skip forward 18 years, high school is finished and a decision has to be made: what to do now? He decides to start studying at the TU delft, but he quickly figures out this was the worst decision of his life. So a year later he decides to start studding in Eindhoven instead, the best decision of his life, as this felt like coming home. One of the most important factors in this was of course the most beautiful bar on campus: the F.O.R.T. Here he could be found almost every Thursday at 16:00. Eventually he made it his mission to taste every beer the F.O.R.T. had to offer. After he finished this challenge he wanted to do even more, so what better way to do this than becoming the Coordinator of Activities of the 33rd committee F.O.R.T. 'Pie Debye'?